West Coast Modern Week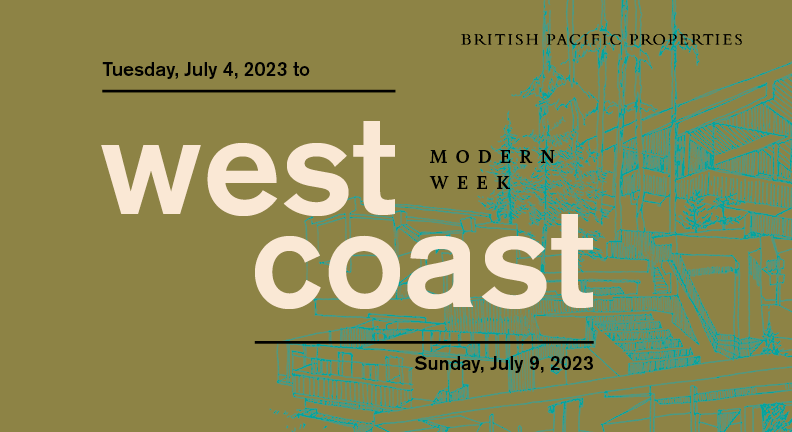 Join us for West Coast Modern Week, a celebration of West Coast Modernism, a distinct architectural style with deep roots in West Vancouver, from July 4 to 9, 2023. Surrounded by forested mountains, an expansive ocean, and a lush rainforest, this natural setting presents unique challenges and opportunities that are reflected in the local architecture. Presented by the West Vancouver Art Museum, West Coast Modern Week's events include talks, exhibitions, parties, and a unique Home Tour offering access to local, architecturally-significant homes. 
For questions about West Coast Modern Week, please contact Alison Powell at [email protected] or 604 925 7296. 
West Coast Modern Week Events
July 4, 5, & 6: Inaugural Walking Tour Series | Ambleside waterfront
July 4: Lecture | Kay Meek Arts Centre 
July 5: Panel Discussion | Polygon Gallery
July 6: Concert | West Vancouver Memorial Library 
July 8: Home Tour with Modern Tea Party | Around West Vancouver 
July 9: Family Workshop | Monova (Museum and Archives of North Vancouver)
Concurrent Exhibitions 
Order from Chaos: Jane Adams and B.C. Binning 
June 21–September 23, 2023

The Bricktacular West Coast Modern Show: Paul Hetherington 
May 5–July 31, 2023 (Exhibition held at West Vancouver Memorial Library)