Enduring Traditions School Kit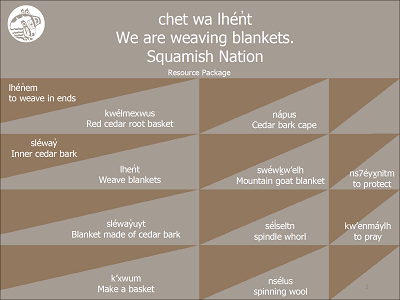 The Language and Cultural Affairs Department of the Squamish Nation and the West Vancouver Art Museum have partnered to prepare Enduring Traditions, a virtual school program kit for local teachers.
Enduring Traditions is designed for Kindergarten to Grade 5 students and focuses on the history and significance of weaving in the Squamish Nation. The kit is self-guided, complete with information, references, exercises, and an oral component, which allows for the teacher and students to hear the Squamish vocabulary spoken aloud through recordings.